Hamari Dharti Pyari Dharti
"Inculcating Attitude To Go Green"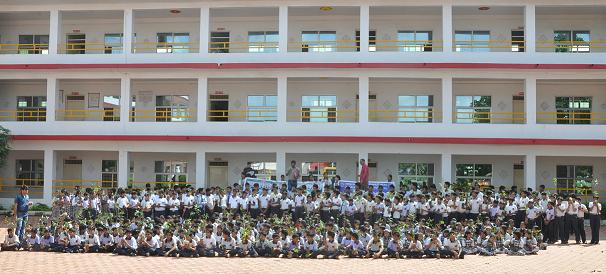 Mission :
Our mission is encouraging students to take concrete action towards mitigating the effect of climate change and Environmental Degradation and this is possible through plantation. This is our first step to save our nature. Call to everyone for joining hands to protect our beloved mother earth.
Target :
Every year we find out those students who have enough space for planting a tree in their house or vicinity and our target is to add more and more students and their friends for this work because we know one right and helpful step towards our nature will change its condition.
Hamari Dharti Pyari Dharti is a school effort started to educate children, plant trees and improve the environment. In this program students learn about the value of trees in our ecosystem and learn how to recognize and care for trees. Though this program students experience the fun of planting trees with their class mates and friends. Every year school provides plants to those students who have more open spaces at home or their surroundings. Proper guidance about how to plant a sapling is also provided.
Guidance :
Step 1 : Find protected spot to plant the sapling. Dig a hole for the sapling.
Step 2 : Collect material for plant safety such as stone, wire-mesh cage.
Step 3 : Arrange manure for planting a sapling.
Step 4 : Place the sapling in the hole. The sapling should fit comfortably in the hole. Refill the planting hole. Regularly water the sapling 1 mug of water at least twice a day (as per season) to keep it well hydrated.
A chain is formed where senior students monitor tree plantation carried out by juniors. The senior students will report to their respective teachers in turn.
The school staff visits the different places where the saplings are provided & their growth & development is regularly updated.
So Plant Trees, Gift a tree and help the environment.