GPS Founder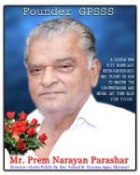 Honr. P. N. Parashar
Eveyone has their dreams but only a few who dare to manifest them in their life. Shri P. N. Parashar was the man who make his dreams come true and realised them. The Founding father of GPS was born at DEHARWARA, a small village of Tehsil Kolaras district Shivpuri (M.P.) on September 5th, 1945. He was the son of Shri Omkarlal Parashar and Gyasodevi He had something special in his personality. He ventured fearlessly throught varied facets and fields of life. He was criticised by many when he left his secured Govt. job and went ahead for doing humble jobs like running a Pan shop and a Chat Shop, but this man of steel discipline never let that criticism governed him. He moved towards his goal, step by step, slowly but steadily and his goal was crystal clear before him.
Later he stepped into construction business and achieved a great success.He established Sharma Agro and then in Year 2004 he laid the foundation of Geeta Public School. It was his dream to provide quality education to children and GPS was the key of his dream . He feel his presence in the body and soul of the school. He was a stout devotee of Shri KEDARNATH. He had been going on pilgrimage to Kedarnath for the last many years. He was a cheerful person liked by everyone in his social circle. He was always on his toes to provide a helping hand to all. He had such a strong character that his presence was enough to inspire people. He felt great joy and pride in doing social work and also motivate others to become a responsible citizen. On October 5,2010 he went on his heavenly abode. He lived every ounce of life, enjoyed its different moods and experiences without discrimination as reflected in Upanishad.
Tesarvagam sarvatah prapya dhira, Yuktatmanah sarvamevavisantiv
The Alma Matter
Geeta Public School ,run by Shrimati Geeta Devi Sharma Shiksha Prasar Evam Gramotthan Kalyan Samiti, was established in 2004 by Shri Prem Narayan Parasar and his wife Shrimati Geeta Devi Parasar.
Shrimati Geeta Devi is a gracious lady with a philanthropic vision, always caring for the downtroddens, She believes that social prosperity and happiness lie in the fact that every sect of it - irrespective of caste, creed and class must be avail with the best possible education, rendering a nourishing environment for the overall development so that every child can lead a perfect life and can make himself/herself an invaluable asset in nation building. In making such a vision a concrete reality, it takes lots of dedication, motivation and selfless endeavour with which only this herculean task could take any tangible form. This school, from beginning, used its best resources and has done best efforts to give education above par, and our efforts are well reflected in children's progress and achievments. We can humbly claim a maximum Parent's satisfaction.
Shri P. K. Sharma
Director